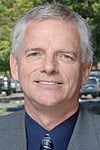 PULLMAN, Wash. –Washington State University's chief academic officer is stepping down as provost and executive vice president.
WSU says Warwick Bayly will leave at the end of May.
WSU President Elson S. Floyd says Bayly held his position during some of the most challenging years.
"Working with the faculty and deans, Warwick helped to guide our institution through some of the roughest budgetary waters we have ever faced," Floyd said. "I have appreciated his energy, insight and dedication to preserving the quality of our academic programs through it all, and now I respect his decision to return to his research."
Bayly previously served as dean of the WSU College of Veterinary Medicine. He says recent research developments and opportunities have re-energized his interest in pursuing research full time.
"I have found myself increasingly engaged with thoughts regarding equine exercise and have taken it as a sign that, after five years, it is a good time to return to that arena," Bayly says.
Floyd says he is accepting nominations for an interim provost.