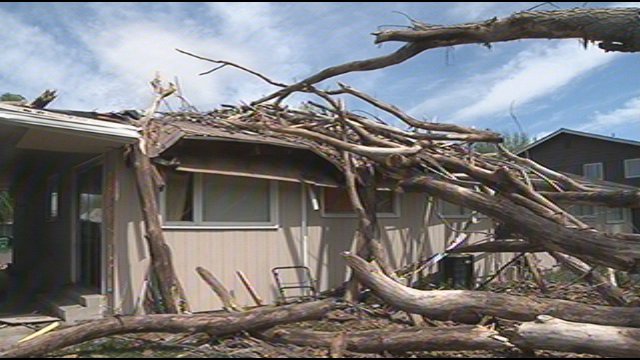 KENNEWICK, Wash.
A Kennewick family is displaced after a tree tumbled onto their home during Monday night's fierce winds.
The family of 8 has lived in the duplex on 6th Street in Kennewick for several years, but they have been forced to leave after a large tree landed right on top of the house. When the tree came slamming down, some of its branches ripped through the ceiling in the room where the couple's one year old daughter was asleep in her crib.
After hearing a big crash, Michael Elsele grabbed his baby and rushed her to safety at a neighbors house. "Going through your mind, you make sure you know where everyone is at that moment, when you do have kids that's the biggest priority going through your mind is making sure all the kids are ok," said Elsele.
None of the children were injured. The family says they have unsuccessfully been trying to get that tree removed for over 4 years. The home has been deemed unlivable by the property management company, and the six children and two adults say they are currently forced to stay in a motel.