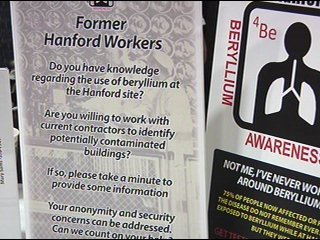 PASCO, Wash. -- The Cold War Patriots held a resource fair for former Hanford Workers at the TRAC in Pasco. The Cold War Patriots is a non-profit organization whose mission is to help former nuclear workers stay connected and informed on issues that affect them.
More than 200 people came for the fair to meet with exhibitors and get free health screenings. The Hanford Beryllium Awareness Group was also there to help people who have developed Chronic Beryllium Disease from exposure to chemicals over the years.
One man who is a BAG member, Craig Hall worked at Hanford from 1981-2007, and was originally misdiagnosed before doctors figured out he contracted Chronic Beryllium Disease. Hall says only 25 percent of workers have been screened for the chronic lung disease and he's urging all workers to get tested.
"Not everyone can be affected by it, but the ones that are, it's important to be tested regularly. We don't know why if you were exposed it could take 20, 30, 40 years why it would show up. we don't know that,. I don't know that the doctors do either," says Hall.
The Beryllium Awareness Group meets at the Hammer facility twice a month to offer information to others who may be exposed to the metal.