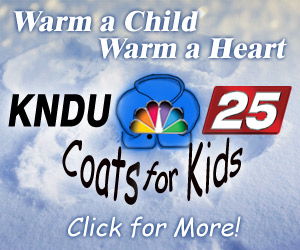 For twenty-six years both KNDO and KNDU started an annual public service campaign to aid local children who needed warm coats for the winter. Thanks to the generosity of our viewers and sponsors, over the years many children have been able to have a warm coat during the winter months.

If we have helped you in the past acquire a coat, we would like to hear about it. Click here to enter your short essay on how Coats for Kids program helped you and your family.
If you are in need of a warm coat, you can visit any of these distribution centers for help. If you have a new or gently used coat you would like to donate, any of our drop off locations will be happy to take them for you.
All coats are cleaned before given back to the community to those in need. Thank you Tri-City Cleaners for your services.


It is imperative that any children's coat collected is received by a child in the community it was donated in.


Distribution Center:

310 N 4th Ave
Pasco, WA
(509) 547-2138