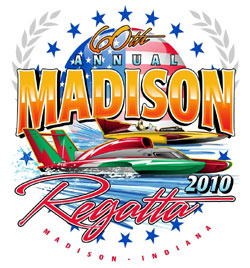 Madison Regatta officials have announced the introduction of a special logo to commemorate the 60th anniversary of the Madison Regatta Indiana Governor's Cup.
Joe Hertz, Madison Regatta Marketing Chairman stated, "We wanted to highlight this special occasion in our 2010 marketing campaign and thought a unique logo would be a nice touch." Ann Fitzgerald of Images Unlimited located in New Jersey offered her design assistance to the project resulting in unanimous board approval of the new design. Images Unlimited is the official merchandise supplier to the Madison Regatta event.
The new logo will be prominently displayed on all upcoming promotional material and will be available on special souvenir items available at the 2010 Madison Regatta. The Madison Regatta is an officially sanctioned American Boat Racing Association event featuring the world's fastest race boats, Unlimited Hydroplanes. The 2010 Madison Regatta is a three day event scheduled for July 2-4.
Additional information regarding the Madison Regatta and Historic Madison Indiana is available by visiting the regatta web site at www.madisonregatta.com.